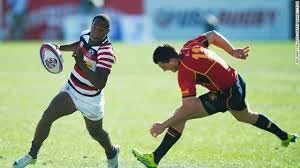 In an interview with the Irish Independent, following the culmination of the World Club 7's at Thomond Park, American 7's sensation Carlin Isles claims he will return to the 15 man game, after representing his country at the 2016 Olympics.
A much publicized move to Glasgow Warriors saw Isles fail to make an appearance for the Scottish sides first team, but the American claims that he is richer for the experience and will return to Union, reinvigorated in 2016.
"For sure I'll go back playing union. I'm trying to focus on the Olympics right now and try and be the best rugby player I can be. I'm still learning and developing my game," mused Isles.
"It was great moving to union. There was a good coaching staff and team in Glasgow and they taught me a lot and it was a great experience, said Isles to the Independent's Cian Tracey.
There are no reservations about Isles ability to adapt to the physical demands of Union, but whether he will be refined enough in the art of defense remains to be seen. Still, given his obvious try scoring prowess, there will likely be several teams who are willing to take a punt on the American, post Rio 2016.