Owen Farrell or George Ford? This is a question that has continued to divide the land and will go down in history next to "Ferrari or Porsche?" and "Boxers or Briefs?" Eddie Jones must face this decision, a task envied by none.
Owen Farrell at 10:

Farrell became England's next great hope in November 2012, when, as a spritely 20 year old, he lead England to victory over the New Zealand All Blacks. Now at 24 years of age, he has amassed 35 England caps, been on a Lions Tour, and won two Premiership titles. Farrell has been in great form at 10 for Saracens, as he has lead them to an unbeaten record in the European Champions Cup, and a run of 9 wins and 1 loss in the Premiership. When he is healthy and on form, no one in England is better at controlling the game than Farrell, and he has worked hard to expand his game in attack. The hard hitting Farrell is a great leader in defence, and his tactical kicking game is superb. Farrell is also undoubtedly the more reliable goal kicker of the two, which should give him a huge edge.

George Ford at 10:

Ford is the total opposite to Farrell in terms of style of play. Where Farrell's strengths come from his defensive work and game management, Ford loves to break games open with phase plays and attack the line. While Farrell is 6'2" and 212 lbs, Ford is 5'10" and 185 lbs. Having said that, Ford is included for a reason, and while he may not be a match for Farrell in defence, few are better in attack. The 22 year old has great vision, which allows him to attack the line, and then pick the runner who has taken the best line. This approach has helped him lead Bath to the Premiership title (where they fell to Farrell's Saracens) and bring England within 1 try of a 6 Nations title. England scored the most tries in the 6 Nations last season with Ford at 10, and his relationship with outside center Jonathan Joseph helps England's backline greatly. His club form hasn't been great, but behind an English pack I have no doubt that Ford can rediscover his best.

Ford at 10, Farrell at 12: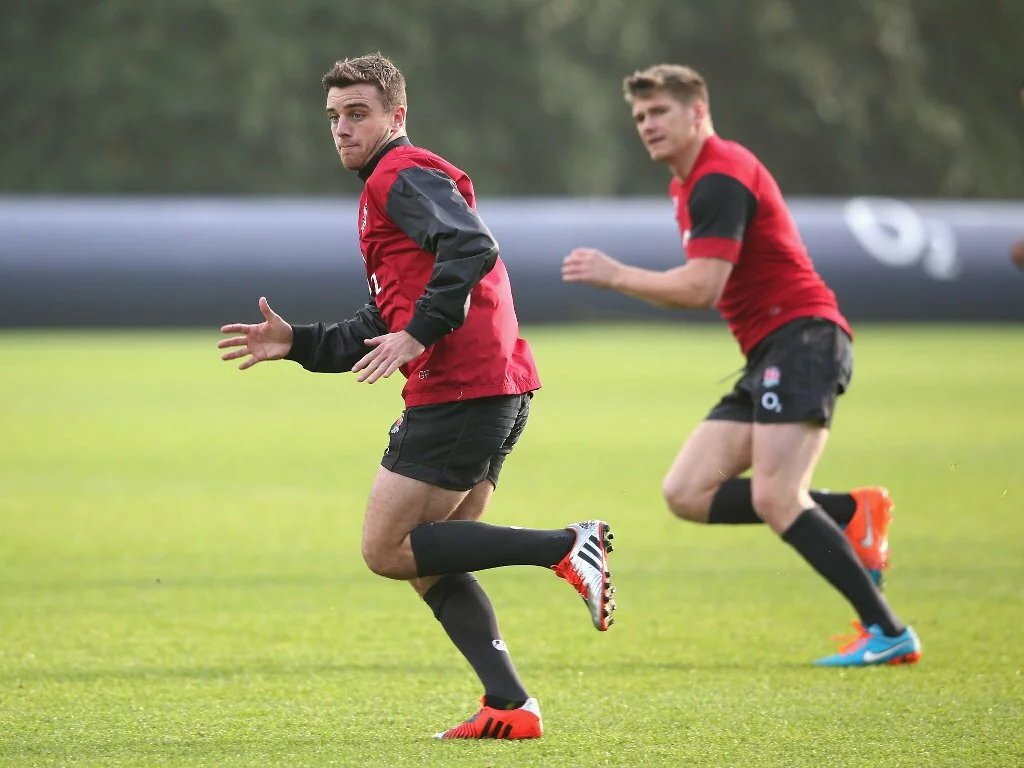 This was just one of Stuart Lancaster's neverending experiments in the centers for England, and admittedly it did seem to work. England fans got to have both Farrell's defensive work and kicking from hand, as well as Ford's attacking brilliance. The duo led England to a big win over Samoa, and Saracens seemed content to leave Farrell at 12 at the start of the club season. However, Farrell's MCL injury left him out of contention for the 6 Nations, and the pairing seemed to be resigned to the history books. New coach Eddie Jones seems to be willing to experiment, and this would not be a bad idea. You get great distribution and kicking, but lose little in attack or defence, a great compromise.

In the end, I feel it is most likely that Jones will start Farrell. Farrell is in great form this season, and despite Ford's good connections with many of the England outside backs, Farrell just looks like a better player this year. Expect to see Ford on the bench as an impact sub, while Farrell's game management will see him start in the 10 jersey.